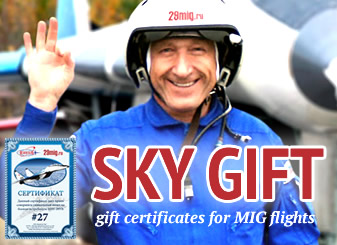 Dear friends!
Unfortunately due to technical reasons demonstration flights on MiG-29 UB jet fighter is temporarily stopped. The expected date of flights resumption is December, 1st.
For this reason we continue accepting requests for the flights without a fixed date. As soon as all technical issues are solved we'll be happy to offer You all possible flight opportunities.
Perform a flight on MiG-29 jet fighter!
It is not necessary to be a professional pilot to experience the flight on supersonic speed, to see the earth from dizzy height and the darkness of space above, to feel velocity and flight dynamics!
Our company offers you an incredible opportunity to carry out the flight on modern supersonic jet fighter MiG-29 with performance of higher aerobatics.
MiG-29, created in 1980s, opened a new era of jet fighters development. It became the world's first jet fighter of such class, combining superior effectiveness in maneuvering air fight with an ability of attacking the enemy with medium- and short-range air-to-air missiles.
You have an opportunity to become a co-pilot of this powerful jet fighter, take your seat in its cockpit and perform an unforgettable dream-flight. Flying at Russian fighter jet is a reality available to everyone. Come and take a ride in a jet fighter.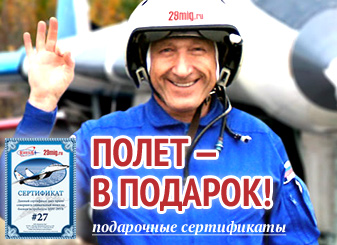 Sokol airbase test pilots:
Vegitel company
Vegitel is a specialized tour operator with long-term experience in the sphere of aerospace tourism. Members of the company are not only professionals in tourism but also proficient specialists directly involved in cosmonauts training in Star City.
Such a thorough knowledge of the subject as well as our particular specialization allow us to create unique offerings and programs for both Russian and foreign partners and to provide services of highest quality and reliability.
Jet fighter flights organization is one of the branches of our work. Besides the MiG-29 flights we can offer you a deal of unique tourist programs: zero-G flights, tours to the MCC and Star City, accomplishment of cosmonauts training programs' elements, tours to Baikonur to view the launch, expeditions to the landing sites, unusual corporative events and much more!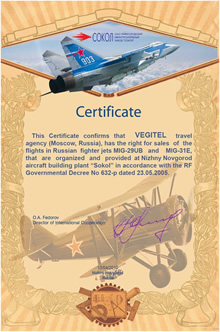 Upcoming space adventures:
Amazing tour to Baikonur cosmodrome with watching of the Soyuz MS-06 rocket lift-off!
Perform a zero gravity flight onboard the IL-76 MDK flying laboratory.

Visit famous Gagarin Cosmonaut Training Center (Star City).