Sergey Kara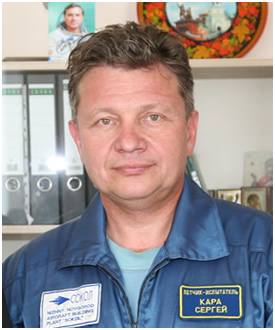 First-class test pilot,
Honored test pilot of Russian Federation
Born on February 5, 1965 in Nizhny Novgorod.
Graduated from Kharkov Pilot School in 1986 and Fedotov Test Pilot School (Zhukovsky city) in 1999.
Types of aircrafts: L-29, L-39, L-410, MiG-21, MiG-23, MiG-25, MiG-29, MiG-31, Yak-40, Yak-52, Yak-55, Yak-130, An-2, An-26, An-30, M-101T, Mi-8, SM-92, A-201, Il-103, LANCAIR-IV, F-15F.
Pilot rating: first-class military pilot, first-class test pilot, first-class commercial pilot
Total flight experience: more than 4200 hours
Has performed more than 3000 test flights
Speaks English.
Married, has two children.