MiG-29 flight programs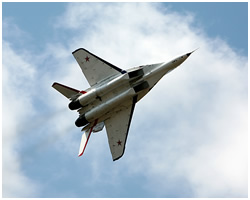 «Higher aerobatics on jet fighter MiG-29» program is a perfect solution for devotees of adrenaline and rush. You will definitely feel as a hero of an air-show, performing aerobatics at a tremendous pace in the cabin of a modern jet fighter! To rocket upright, make a breathtaking overturn, rush forward just over the ground and shoot up back into the sky – such impressions won't be forgotten! Fly MiG 29 in Russia — a dream come true.
Content of the flight, complexity of the performing program and g-load level is discussed individually, so pilotage on MiG-29 is available for any person regardless of age or sex.
There are simple and complicated figures among higher aerobatics. You may accomplish such maneuvers as turns, «barrel roll», «inverted flight», «loop», «bell», and many others.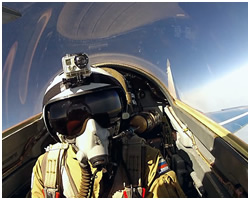 Stratosphere is one of the upper layers of atmosphere, which starts at the height of 20 kilometers above the ground. It is twice higher than during the flight on the airliner. Here the darkness of space hangs over your head, the horizon line merges with the semicircle of Earth and Space borderline and the ground far beyond looks like a small-scale map.
Flights in the stratosphere were available only for select few military pilots, but now anyone who wishes can take a part in such a unique adventure! Flights in Russian MiG fighter jets will give you unforgettable and bright impressions.
Edge of space flight program becomes even more considering flight on such great heights combines with aerobatics. Our program «Edge of space flight on MiG-29» is our most rich of content and no real adventurer can stay indifferent!